First and foremost our dogs are family members not kennel dogs. They live and sleep in our home usually sharing our beds and couch. Our puppies are raised in our home and are exposed to our everyday family life environment. They are handled daily from birth and given individual attention and socialization with other people and dogs. While still nursing they will start housebreaking by using a litter box and become accustomed to a puppy pen. Once old enough they are brought outside to become familiar with all the sights and sounds and to explore the back fields on supervised walks. The litter will be AKC registered and each puppy will be eligible for AKC Limited registration. Before leaving for their new homes at 8 weeks they will have been examined by a veterinarian, wormed, exposed to crates, car rides and dead birds.
 Weekly YouTube videos are sent to each family from birth to 8 weeks of age allowing the future owners to watch and enjoy the many developmental milestones a puppy goes through as they develop (their eyes opening, first time eating, playing, going outside). These are things you never get to see unless you are raising the litter.
Since we know our puppies better than anyone, we do not allow our buyers to select their puppy and will assist working homes with their selection. We make every effort to match each prospective owner or family with the puppy that best suits them by gathering information about their life style, experience in dogs, and expectation for their puppy. 
The process to acquire a puppy from us is:
1. We only breed occasionally so PLEASE have patience
2. We DO NOT keep "Lists"
3. If you are interested in a working or competitive puppy please contact us anytime and we can discuss what breedings we have planned that may be of interest to you and assist in your puppy selection.
4. Submit a puppy application only after a planned breeding is posted. 
5. If chosen for an interview the initial interview is by telephone – we feel speaking with perspective families allows for a much more personal connection than you can not get through emails.
We will notify the families if they have been approved. To reserve a puppy we ask for a deposit once the litter has been born. The remaining amount will be due on the day of pick up at 8 weeks of age.       
Competition Performance Litter
Born Nov 12th 2022 
3 males  6 females
Francalia Slippery When Wet UDX SH
(Slide)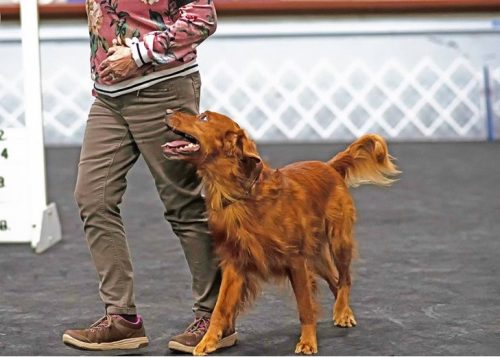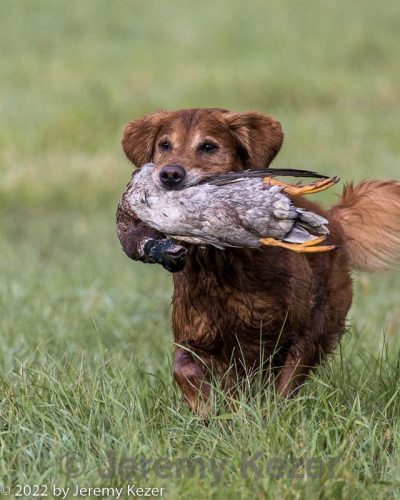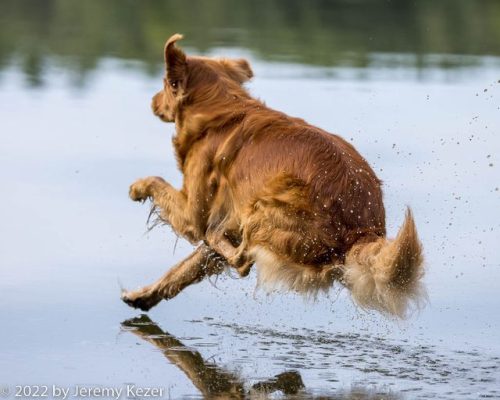 "Slide is a very "up" and energetic, driven boy who loves both the field and obedience competition. He has gotten multiple HITS, HC and is OTCH pointed. He is very fast in the field and in obedience. He is a great marker and is quick on blinds. Slide has an "off" switch at home and loves to be close to us. He is good with other dogs and lives with 2 other goldens, a 10 year old and an 6 year old, who he likes to wrestle with often. He is a compact red dog who weighs about 56 lbs."
Otterbrook's Such A Tease RA CCA
(Tease)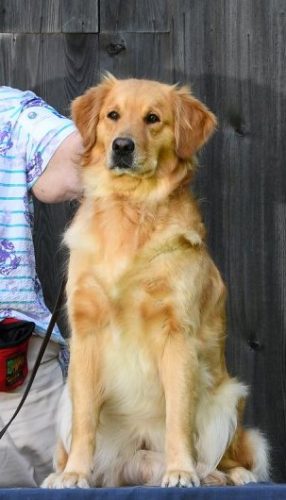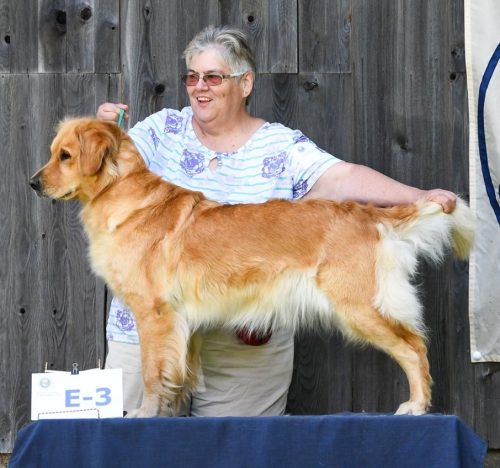 From giving you "THE STARE" demanding your undivided attention to finding her in "HER SPOT" behind the woodstove Tease is a character and fun to live with. Sired by the multi titled OTCH MACH "Reese" out of our "Shire"( Eddy UD MH MX MXJ daughter) Tease and her littermates are successfully competing in many different dog sport venues earning titles in obedience, rally, agility, field work, scent work, and tracking to name a few. She carries a moderate slightly wavy coat, stands 21.5″ at the withers, weighs ~68lbs and has good bone. 
                   K9Data Link to Litter Pedigree Click Here*
*K9 Data has been having server issues and is under repair. Some of the information such as health clearances may not be listed on their site at this time