First and foremost our dogs are family members not kennel dogs. They live and sleep in our home usually sharing our beds and couch. Our puppies are raised in our home and are exposed to our everyday family life environment. They are handled daily from birth and given individual attention and socialization with other people and dogs. While still nursing they will start housebreaking by using a litter box and become accustomed to a puppy pen. Once old enough they are brought outside to become familiar with all the sights and sounds and to explore the back fields on supervised walks. The litter will be AKC registered and each puppy will be eligible for AKC Limited registration. Before leaving for their new homes at 8 weeks they will have been exposed to dead birds, crates and car rides .
Since we know our puppies better than anyone, we do not allow our buyers to select their puppy. We make every effort to match each prospective owner or family with the puppy that best suits them by gathering information about their life style, experience in dogs, and expectation for their puppy.       
*Early 2020 Breeding Planned*
Otterbrook's Such A Tease RA CCA
"Tease"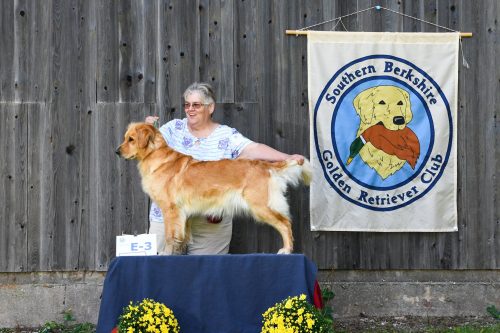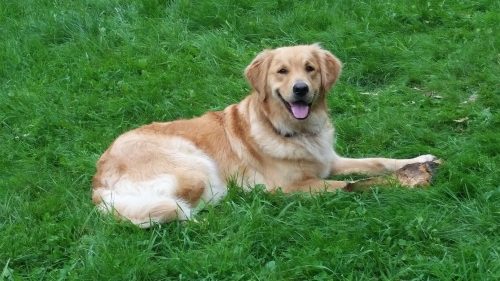 will be bred to
Can CH GMOTCH GMH NMH Zaniri Letter By Letter CDX WCX CCA Can WCX MH
"Scrabble"
 Scrabble is now the 3rd Golden Retriever in Canada to have attained a Show Championship, Grand Master Hunter and Grand Master Obedience Trial Champion.  His father Puzzle, Can CH GMOTCH GMH Zaniri's Piece By Piece Can MH WCX RM VCX OS; Am UD WCX** CCA VC OS, was the first. 
In August of 2015 Scrabble earned his Canadian Show Championship.  In doing so he went BOW and BOB over 6 specials under breeder judge Cathy Barlow.  He has a pleasing head, good shoulder layback, a rock solid topline and full dentition with a scissors bite. His movement is effortless and he could go all day long.  He is 23 1/2″ tall and weighs 72 lbs.
Scrabble is smart as a whip and full of energy, yet he has a wonderful on/off switch.  He gets along well with everyone he meets, dogs, cats and horses.  Like both of his parents, he has lots of drive and a ton of natural talent. In the field he is an extremely good marking dog and runs with lots of style.  He inherited his father's water entry and is one of the fastest swimmers around. He competed and qualified in the 2019 Can Master National this past August earning his National Master Hunter title (NMH).
 His obedience career started in August of 2015 entering Novice B and progresses to completing his Can OTCH in July 2018 and his Can GMOTCH in October of 2018. He was ranked one of the top 10 obedience dogs in Canada in 2018.
 In 2015 he was awarded the Prestigious Nan Gordon Memorial Trophy at the Golden Retriever Club of Canada National Specialty. The trophy is awarded to the golden earning the highest point tally from a field event, an obedience class and the breed ring (the dog must compete and qualify in all three venues) at the GRCC National Specialty. Scrabble then repeated his win again in 2017 and 2018!   
 Click here for Litter Pedigree